Gamification for Call Centers
94% of employees who have participated in our gamification dynamics are satisfied and will repeat the experience.
Reinventing Call Center Agent's motivation
Call Center Gamification is an interesting strategy to increase your agents involvement as, at the same time, they improve their performance and generate more and better results.
We know how to boost your sales team output combining game and technology to inspire and focus towards business targets.
We developed specific actions to satisfy your employees needs and build a higher level of their commitment.
5 Reasons why your Call Center needs to gamify
1. Gamify to raise agent's interests
Gamification will generate more interest to develop new insights and a greater implication in a different environment — positive and inclusive.
2. Gamification increases commitment
Attracted by the new context of gamification and involved dynamics, incentives that come with games achieve agents participation.
3. Gamification helps meeting targets
Sales representatives are acquainted with selling strategies and product promotions. They have real-time tools to get to know the objectives.
4. Games promote healthy competition
That is why we create different ranges in classification, intermediate goals and contests. We give your agents opportunities to feel rewarded and at the same time a desire to win.
5. Game dynamics encourage personal growth
Gamification increases motivation for goal-directed activities in favour of corporate objectives: customer acquisition, their experience and level of satisfaction.
Contact us
Looking for a motivated team and boost your results?
Contact us and we will make you an offer that you will love.
Request a Demo
Gamification as an incentive in Call Centers
Gratifications add recognition to the agents and encourage them to keep motivated and overcome any adversity with the client. Gamification rewards traders through positive reinforcement of different types of badges and prizes that become tangible as they proceed in the game.
The use of questionnaires in game dynamics
One of the most frequent problematics in a Call Center is an agent's lack of sincerity about sensations perceived that may reduce own performance. To avoid this, agents will communicate the main challenges and difficulties they've identified in order to work them with the rest of the team.
Gamify as a training on customer experiences
Gamification can present challenges and tests to simulate real situations on a virtual environment. This will help agents to relax and feel more confident when they contact costumers. This game is useful to work on their speech and improve the thread of conversation.
E-learning to settle Contact Center's processes
Another suitable gamification strategy for a Call Center is to apply games based on procedures and add markers and levels to move forward in the round.

Our gamification solutions by sector
Banking
Expand the knowledge of the new products and services
Healthcare
Motivate the Healthcare workers.
Educate the patients.
Consciousness for the people.
Insurance
Increase the productivity and the sales of your business agents.
Expand the knowledge in new products.
Other areas of gamification
Playmotiv blog about gamification for businesses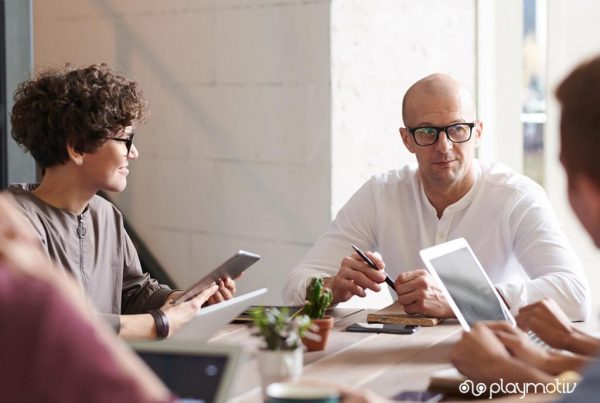 Tips on how to lead your sales teams to maximize their results through gamification techniques. Become a successful leader with Playmotiv.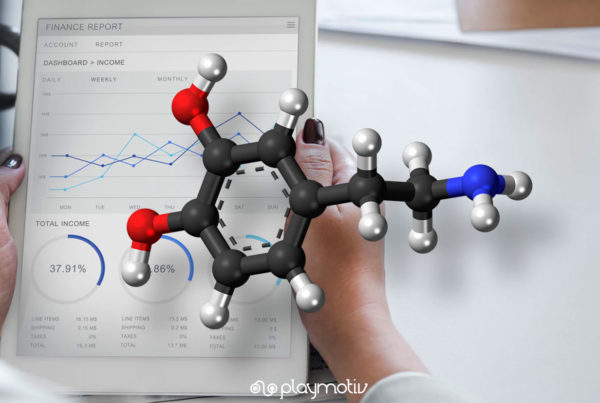 Do you know what dopamine is? Discover what this neurotransmitter does for the productivity of your employees through gamification.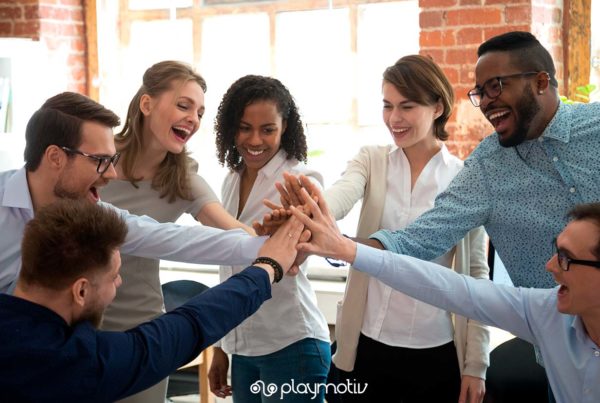 Managing teams is never easy but keeping the team members motivated helps to do it easier and it improves their results.