How to increase sales in a creative and meaningful way? This is a usual question for companies, but it is especially meaningful for commercial team leaders of food companies and impulse markets.
The sales school of the Cluster Foodservice of Barcelona shows how to motivate commercial teams and increase sales.
The second edition of Commercial Coaching for sales team leaders was held on 17th October 2019 and it was organised by the sales school of the Cluster Foodservice. Four important topics were discussed in order to improve sales 😉
1. Gamification for sales: Playmotiv explains how gamification can increase results up to 15%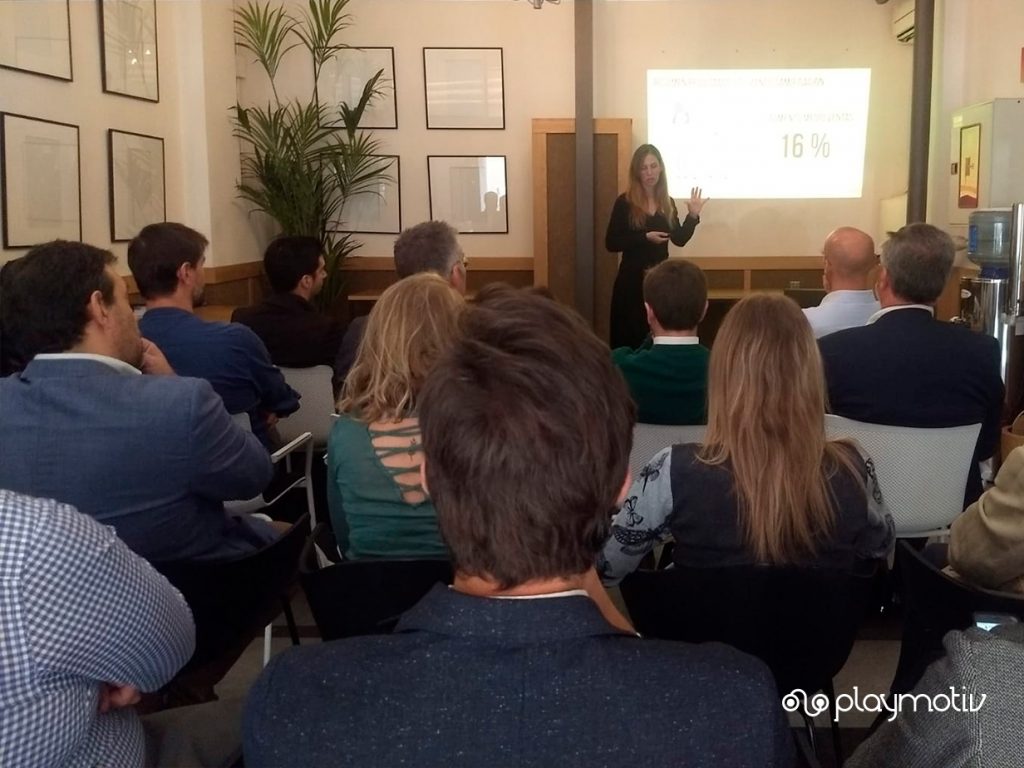 Our Chief Marketing Officer, Patricia de Andrés, explained how gamification can improve the motivation of internal and external sales force and sales points. Gamification is the process of integrating game mechanics into professional environments to achieve specific goals by increasing employees' motivation.
Playmotiv's solution is a combination of technology, user-friendliness, and access to a wide range of player profiles. Thanks to our experience in the mass market, we can increase sales and improve game dynamics by customising our games and encouraging participation. This is achieved with prizes and push notifications that are sent to players to inform them about their ranking position. Besides, these dynamics improve employee commitment.
2. Commercial network transformation: Albert Riba introduces the notion of "Are you a mammoth seller or a Sapiens seller?"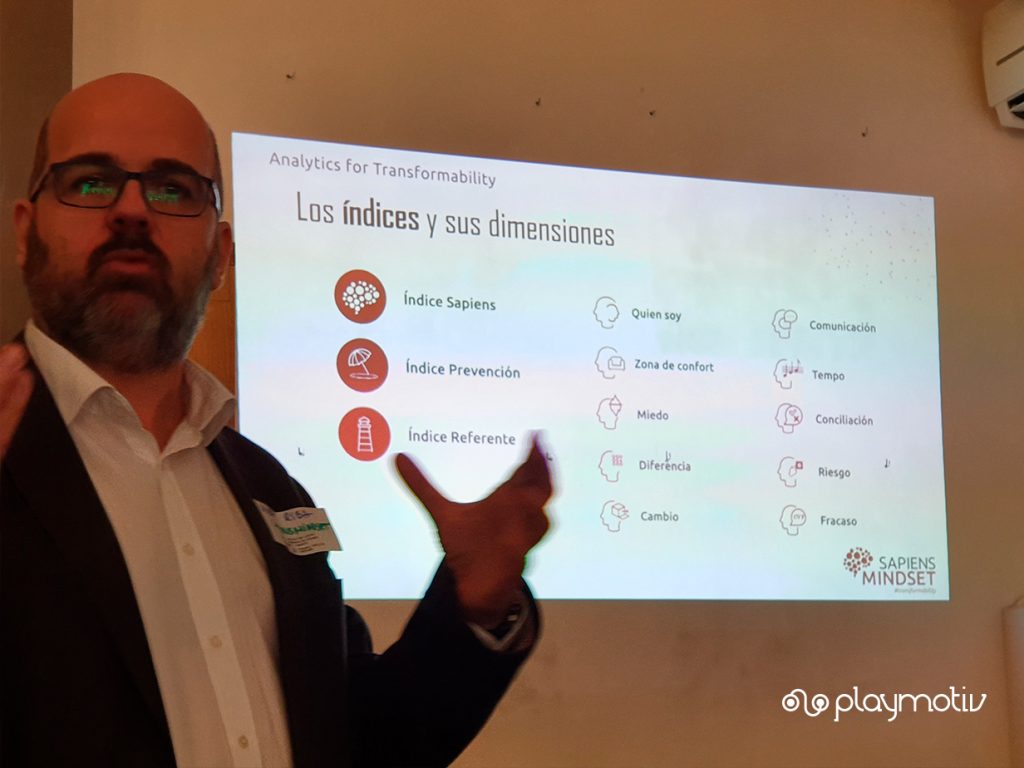 Albert Riba analysed the transformation of companies and employees, and he mentioned notions like "Who I am", "Comfort Zone", "Fear", "Difference", "Change", "Communication", "Time", "Balance", "Risk", and "Failure". His tool "People Analytics and Sales" offers solutions to the specific needs of each situation, so it can be used to increase sales and profitability, or keep current clients or acquire new customers.
In this case, attendees were given a survey before attending to the talk, so the ability of transformation was measured having one clear benchmark.
3. The use of "Big Data" and artificial intelligence to increase sales: Xavier Mallol introduces the solution of Delectatech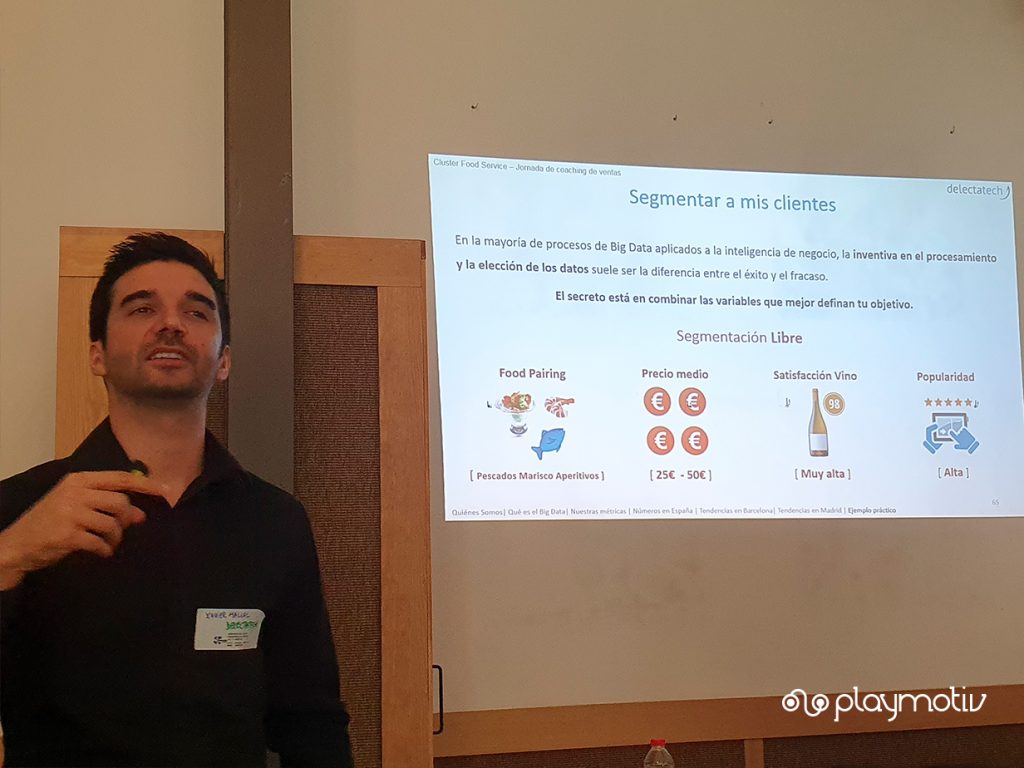 Xavier wanted attendees to learn the meaning of "big data" before finishing his talk, and he definitely achieved it. He explained how the software FoodRadar is used to help restaurateurs and providers to make decisions based on massive data processing with specific sector variables.
FoodRadar, Delectame Analytics and Delectame Operations are artificial intelligence-based software, considered "software as a service" (SaaS). They can read and learn from texts about catering and gastronomy in order to offer real-time analysis about the feelings and satisfaction rates of clients, market trends, and evolution of the rival companies.
We found his contribution about AI very interesting: an algorithm is just a recipe and nothing else. What has changed over time is the speed at which data is presented.
4. Neuromarketing applied to sales: Xavier Olivella and Laura Martin use persuasion to discover clients' needs and offer them what they want
Neuroscience explains how decisions are made and Xavier and Laura told us how systematic and repetitive processes can help to improve the effectiveness of sales. Knowing the personality of each seller is vital to identify their strengths. It is also important to know that our reptilian brains are responsible for making decisions, so we need to appeal to their emotions.
In order to get clients, find out what gives them pain and speak to them from the emotional point of view.
During the following networking we discovered that the conference had a good level of acceptance among cluster members, and we shared some ideas about increasing sales.